Getting by taxi from Lech Arlberg to Chur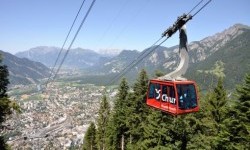 *Taxitransfer – Lech-Arlberg Chur
*Driving time: 1 Hr 30 Min
*Driving distance: cca 120 Km
*Taxi-Route:
Lech Driving directions to Chur, Switzerland. This route has tolls. This route crosses through Liechtenstein. Lech – Head northwest on Lech toward Lechtal Str./B198 30 m, Turn left onto Lechtal Str./B198 5.6 km, Turn right onto Lechtal Str./Zürs/B198, Continue to follow Lechtal Str./B198 4.4 km, Turn right onto Arlbergstr./B197 5.9 km, Merge onto S16 via the ramp to Bludenz/Bregenz, Partial toll road, 22.3 km, Continue onto A14 Toll road 20.2 km, Take exit 41-Feldkirch toward Frastanz 1.2 km, Keep right at the fork, follow signs for B190/Feldkrich and merge onto Feldkircher Str./B190, Continue to follow B190 1.9 km, Turn left onto Hirschgraben/B191 37 m, Turn left to stay on Hirschgraben/B191, Continue to follow B191.
Entering Liechtenstein, 3.2 km Continue onto Vorarlbergerstrasse, 2.3 km, Continue onto Feldkircher Str. 5.5 km, Turn right toward Postplatz 96 m, Continue straight onto Postplatz 44 m, Turn left onto Poststrasse 71 m, Turn right onto Bahnhofstrasse 140 m, Continue onto Zollstrasse Entering Switzerland 1.3 km, Continue straight onto Zollstrasse/Route 16, Continue to follow Route 16 270 m, Take the ramp to Chur/Zürich/Sargans 650 m, Merge onto A13, Toll road 38.2 km, Take exit 16-Chur-Nord toward zentrum/Arosa, 450 m, Merge onto Masanserstrasse Go through 1 roundabout 1.8 km, Turn right onto Ringstrasse/Route 13, Go through 2 roundabouts 800 m, Turn left onto Nordstrasse 250 m, Turn left 57 m, Chur-Switzerland
*Price:  on request.
The same price for the transfer back from Lech to Chur: punctual, safe, friendly and cheap with Anton's Taxi.
External links Chur