Lech am Arlberg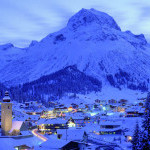 Lech am Arlberg (1,444m) is a mountain village (population: 1530, june 2013) and an exclusive ski resort in the Bludenz district of Vorarlberg, in western Austria, on the banks of the river Lech. In terms of both geography and history, Lech belongs to the Tannberg district. In tourist terms, however, it is part of the Arlberg region. Lech is administered together with the neighbouring villages of Zürs, Zug, Oberlech and Stubenbach. Neighbouring skiresorts: Oberlech 4 km, Zürs 6 km, Stuben 14 km, Langen 16 km, Klösterle 20 km, St. Christoph am Arlberg 16 km, St. Anton 22 km. Lech website: www.gemeinde.lech.at, Airport taxi transfer Lech .
Lech close airports: Airport Zürich 200 km, Airport Innsbruck 120 km, Airport Altenrhein 100 km, Airport Friedrichshafen 130 km, Airport Memmingen 170 km, Airport München 280 km.
Lech is best known for its skiing for both on-piste and for off-piste. It is well connected via mechanical lifts and groomed pistes with the neighbouring villages of Zürs, Stuben, Klösterle, St Christof, St. Anton and – together they form the Arlberg region, the birth place of the modern Alpine skiing technique and the seat of the Ski Club Arlberg. Lech is also the starting and finishing point for "The White Ring", a circle of runs and lifts that is a popular tour and the scene of an annual race involving both experts and others.
External links Lech am Arlberg